The stories you don't hear in wine-education classes or read about in magazines are the most important ones out there. These are the stories of brutality and enslavement in vineyards—practices that continue to this day. Prepare to be shocked, surprised, and enlightened by Ep. 97 of The Four Top.

Meet our guests: Stephen Satterfield, the host of High on the Hog on Netflix, has worked as an activist on behalf of South African vineyard workers. Stephen is also a food writer, sommelier, podcaster, and the founder of Whetstone Media. Deborah Parker Wong is a writer, teacher, wine judge, and the Global Wine Editor of SOMM Journal and The Tasting Panel magazines. She is also editor of the Slow Wine Guide USA 2021.
You can listen to Episode 96 of The Four Top through our dedicated site, as well as your favorite podcast app.
Stay safe out there.
OWN A PIECE OF WV WINE COUNTRY!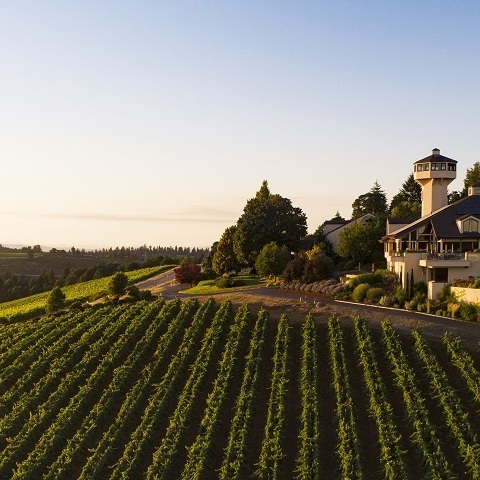 Have you ever wanted to own a winery? Current sponsor Willamette Valley Vineyards makes that dream a possibility! Check it out on NASDAQ at WVVIP—it's a publicly traded stock, available to anyone. Preferred Stock is offered at $5.05 per share with a 4.36% annual dividend. As an owner, you'll receive a 25% discount on wine, an annual wine credit and other benefits.
Thanks to WVV for its support of the podcast.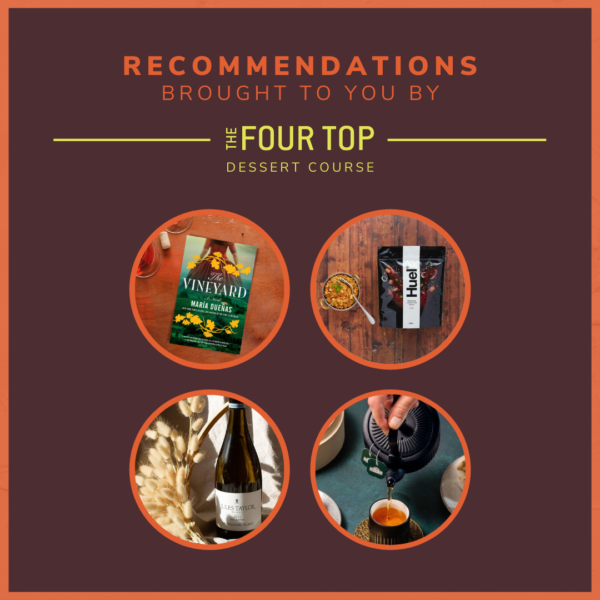 At the end of Ep. 97, you'll hear our "dessert wine" recommendations, including a "rockin' out rosé," an inspirational new hobby, and—more food for thought—a fascinating article on a controversy in the natural wine world, featured in The Cut. Curious to learn more? We post our panelists' "dessert wine" recommendations on our social media feeds, as a slideshow on Instagram or as separate Twitter posts. Just follow us to get those sweet, sweet recommendations.
MEET NICK TOOLE, BEER EXPERT
And now for another installment of our "Meet the Team" series! Nick Toole is our editorial assistant—you can see his work on our website and social media feeds—and so much more:
He works for Allagash Brewing Company in Portland, Maine
He is close to achieving his Certified Cicerone certification
He can "throat sing" in the manner of a Buddhist monk
He and his girlfriend are renovating a vintage bus so that they can road-trip in style
He was a college a cappella singer
Someday he'll own his own brewery!
Click the button below to watch Nick on video
INTRODUCING: THE WINE/WATER BOTTLE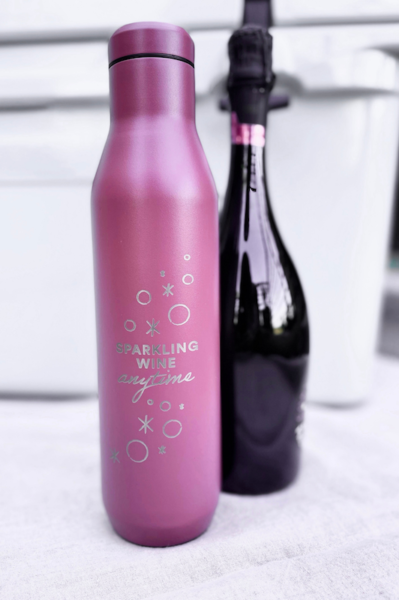 'Sparkling Wine Anytime' merch alert! Behold the 750-ml, stainless-steel Camelbak flask. It's vacuum-insulated to keep your beverage of choice cool, and the base is covered in a grippy, non-slip silicone pad.
As always, 10% of sale proceeds go to AHIVOY, an organization providing education and professional development to Hispanic and Latinx vineyard stewards.