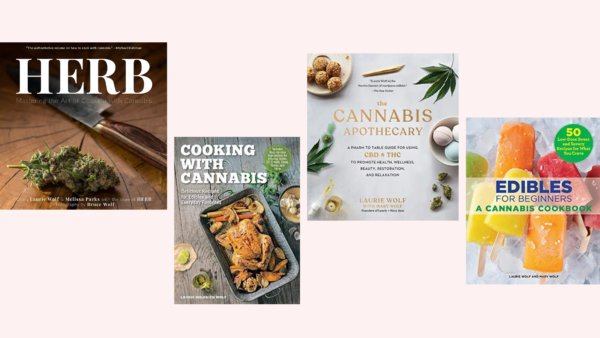 As congress considers legalizing marijuana nationally, it's time to revisit our conversation about cannabis in the kitchen. We brought together a renowned cannabis cookbook author, a prominent culinary editor, and a libertarian journalist for some serious talk about marijuana's role in the food world, and how the heck to cook with it (hint: it's not easy).
Our conversation then moves to the question of how legalization is impacting the restaurant industry. Finally, we explore the sometimes bizarre unintended consequences of US food-labeling laws, and discuss how legal marijuana could be caught in the crosshairs.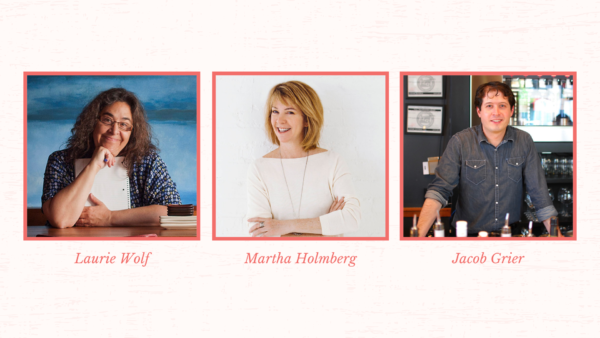 Meet our panelists (left to right): Laurie Wolf, who has been called "the Martha Stuart of Marijuana Edibles" by The New Yorker, is a cannabis cookbook author and owner of Laurie & Mary Jane, a producer of small-batch, cannabis-infused edibles. Martha Holmberg is CEO emeritus of the International Association of Culinary Professionals, and was formerly editor-in-chief of Fine Cooking magazine and editor of The Oregonian's FoodDay section. And Jacob Grier is a prominent mixologist who is also a political writer for publications such as The Washington Post, The Atlantic, and The Daily Beast.
You can listen to Episode 87 of The Four Top through the The Four Top's dedicated site, as well as via Spotify, Apple Podcasts, NPR One, or your favorite podcast app.
Stay safe out there.
HELP US TO TACKLE TOUGH CONVERSATIONS
(WITH WINE)
We've been running a "Best of The Four Top" season while envisioning the future of your favorite beverage and food podcast. Part of that process has been—thanks to feedback from you—a pivot toward more wine-focused content.
That said, we want to continue to tackle tough issues related to sustainability, human rights, and culture. So: What topics do you wish we would explore?

SPARKLE WITH US
In just a couple of weeks, Sparkling Wine Anytime will be on shelves in bookstores and tasting rooms near you. In pre-celebration of this momentous event, we on team SWA/TFT are running a weekly post on our Sparkling Wine Anytime Instagram page featuring a fellow bubbles enthusiast sipping her/his/their favorite méthode whatever.
AND NOW, A BOOK TEASER…
ARE YOU TEAM SUBMARINE OR TEAM GALLEON?
Are you a naval officer or a pirate when it comes to sparkling wine? If you love Prosecco, you travel by submarine. If you are drawn to a Cava that's big and brassy, you roll in galleons.
Allow me to elaborate: Sparkling winemaking can (arguably) be broken into two paths: reductive and oxidative. Reductive winemaking takes place in airtight steel tanks and makes for fresh, crisp, fruity wines. Oxidative winemaking happens in oak fermenters and barrels and makes for round, soft, mellow wines…
…Prosecco is a classic reductive wine, because it's made in pressurized steel tanks that are essentially the Instant Pots of winemaking. The resulting wines can be deliciously fresh, crisp, and fruity, and precise, as clean-cut as a naval officer.
Oxidative wines, on the other hand, are character-rich, peg-legged pirates. They might show signs of oak-barrel aging, and they might be a little wild and flamboyant.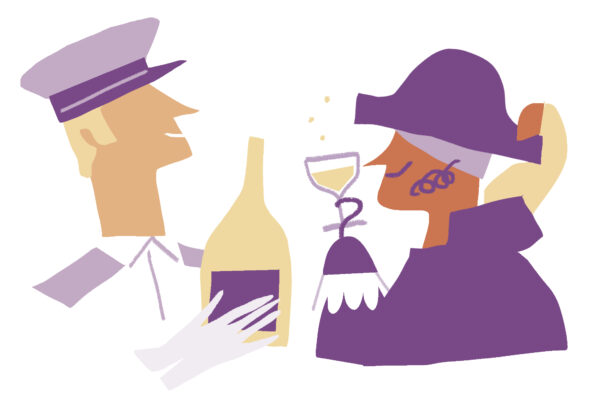 The winemaker might prefer to use a basket press and a wooden fermenter because these expose the juice to more oxygen during vinification.
I go back and forth, myself. I like brassy, oaky, oxidative sparkling wine when I'm feeling indulgent, and a crisp and precise bubbly when I'm feeling focused. It's hard not to root for hunky hero Denzel Washington in Crimson Tide—"Captain, I cannot concur!"—but one has to admit, there would never be a dull moment in the company of Captain Jack Sparrow.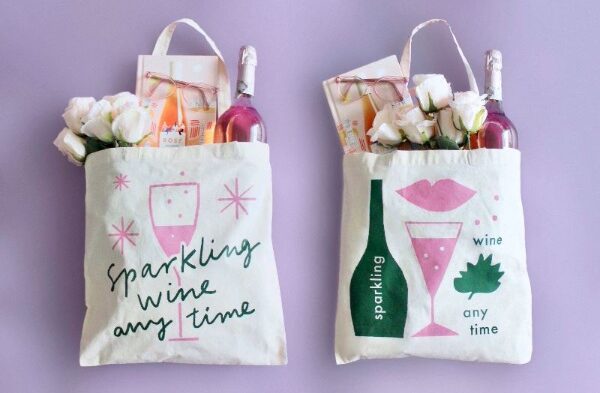 Do you have a tasting room or retail shop that needs a little more…sparkle? Contact us to get on our mailing list for the SWA trade newsletter! We'll send you all the info about wholesale pricing and make sure you're the first to know about new products.