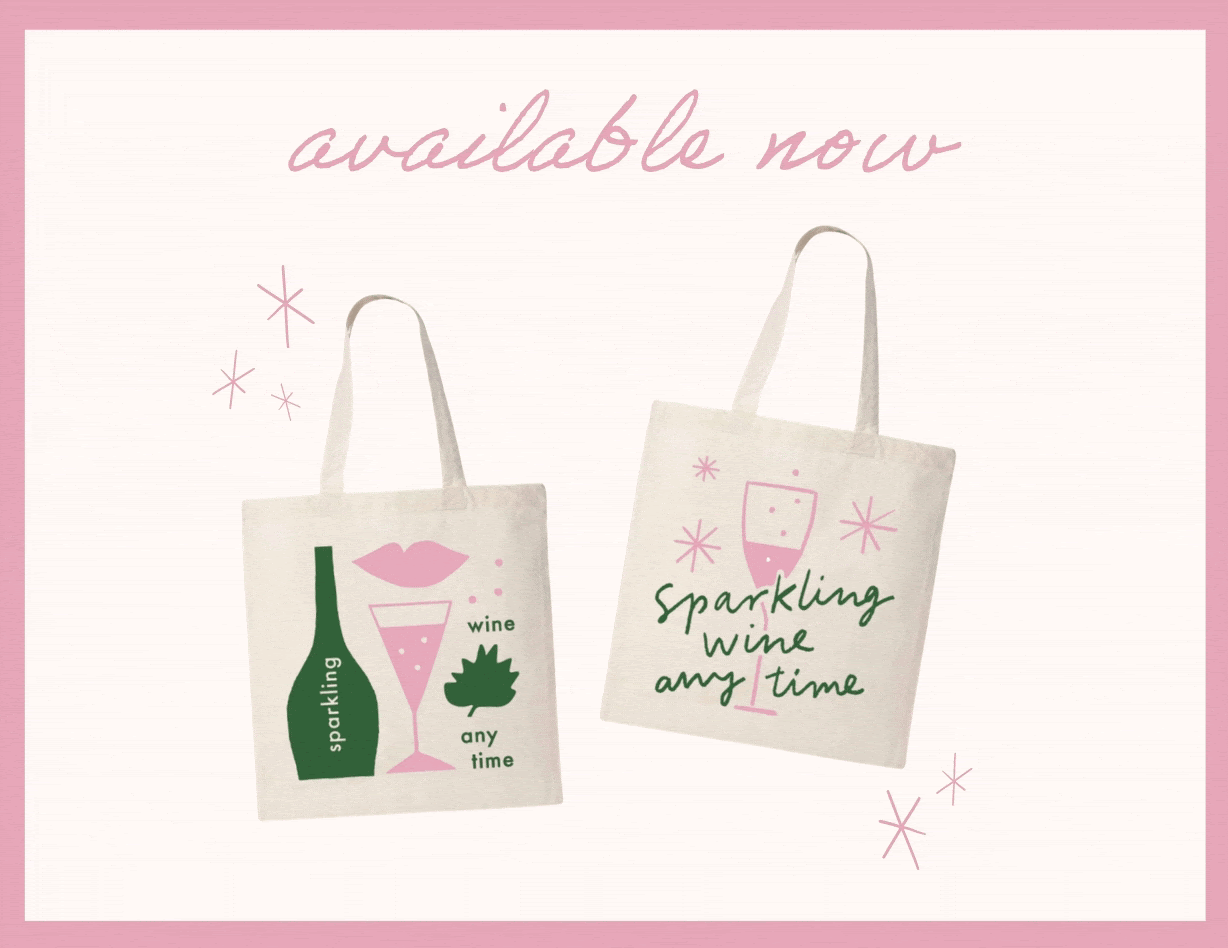 In anticipation of the spring publication of Sparkling Wine Anytime, we are offering these delightful tote bags, retailing at $26 including shipping.
Featuring the work of artist Mercedes Leon, they are earth-friendly 100% recycled cotton, and capable of holding a couple of bottles of fizz (or a couple of books), as well.
In keeping with the spirit of holiday giving, 10% of proceeds will go to AHIVOY, a program offering education and career-enhancement opportunities to Spanish-speaking vineyard stewards.
Available for order now through our website! We also sell wholesale, so contact us if you're interested in selling these bags through your tasting room, bottle shop, or store.

The Four Top is independent now! We are excited about the freedom this brings us. However, that means we need to rebuild our audience from scratch. Please help! Subscribe to The Four Top via your favorite podcast app (link to Apple Podcasts below), and leave us a rating. This will help others find us. Thanks!

SOS FOR FIRE-RAVAGED FAMILIES
More than 100 families in Phoenix and Talent lost everything but the clothes on their backs when they fled their burning homes in September 2020. Many of these folks are undocumented, and thus do not have ready access to federal assistance programs. Please pitch in to help them out this holiday season. You can READ MORE HERE—or, better yet, just click the link below to donate. (Bravo to my amazing friend Angie Bowen for organizing this initiative!)
¡BONUS EPISODE! CELEBRATING HISPANIC ROOTS
Our discussion for Celebrating Hispanic Roots was so good, we decided to make a bonus episode out of it! Tune into this episode to hear winemakers, growers, and industry leaders discuss how to empower the Hispanic community within the Oregon wine industry.
You can listen to Episode 83 of The Four Top through The Four Top's dedicated site, as well as via Spotify, Apple Podcasts, NPR One, or your favorite podcast app.
Stay safe out there.