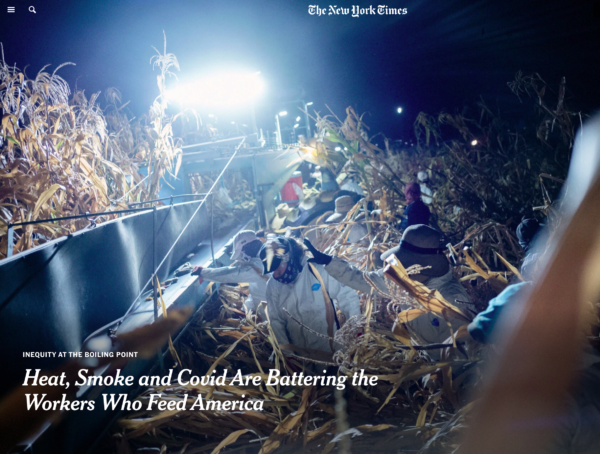 We've all struggled this year, but farmworkers have faced down death as they have worked through Covid-19, heavy smoke from nearby wildfires, and temperatures climbing past 100 degrees.
Previously deemed "illegal," the majority of these laborers are migrants lacking documentation. Today, during the pandemic, they are referred to as "essential," yet continue to be persecuted and treated as though they are dispensable.
In Episode 82 of The Four Top, The New York Times' Somini Sengupta discusses the 2020 harvest in California's Central Valley. And Reyna Lopez of Oregon's farmworker union, PCUN, tells us about the lack of safety measures for laborers facing unthinkably dangerous working conditions.
Despite all this dispiriting news, the episode ends on a high note, as Vanessa García Polanco poses an interesting idea: Imagine public policy that would encourage American land ownership for immigrant and migrant workers. As García Polanco points out, this population knows farming. Meanwhile, half of all American landowning farmers are expected to retire within the next five years. Food for thought…
Meet our panelists: Somini Sengupta is an author and international climate reporter for The New York Times. Vanessa García Polanco is a researcher, writer, and activist focusing on agriculture and sustainability, as well as a Federal Policy Associate with the Young Farmers Coalition. Reyna Lopez is the Executive Director at PCUN, the Oregon Farmworker's Union.
You can listen to Episode 82 of The Four Top through The Four Top's dedicated site, as well as via Spotify, Apple Podcasts, NPR One, or your favorite podcast app.
Stay safe out there.

JOIN THE SOUTHERN OREGON SANTA PROJECT
More than 100 families in Phoenix and Talent lost everything but the clothes on their backs when they fled their burning homes in September 2020. Many of these folks are undocumented, and thus do not have ready access to federal assistance programs. In keeping with the theme of the current episode, please pitch in to help them out this holiday season. You can READ MORE HERE—or, better yet, just click the link below to donate. (Bravo to my amazing friend Angie Bowen for organizing this initiative!)
WINTER ROSÉ CLASS / DECEMBER 2 @ 3PM PST!
Join me December 2 for a "Rosé Wines for Winter" Zoom class hosted by Christopher Kimball's Milk Street, the popular online platform that includes a magazine, radio and television shows, and books.
We will walk through rosé's fascinating history, explore different winemaking techniques, and taste wines from all over the world, including values as well as special-occasion bottles that will mature beautifully in your cellar.
I promise to convince you that rosé pairs with a wide variety of foods and can be appropriate any time of year—even the coldest, darkest, and wettest months.
Use my friends and family discount code ROSE@MILKST to get 20% off your ticket. And if you can't join me on Zoom at 3pm PST / 6pm EST on December 2, you'll receive a private link to view the class on your own time.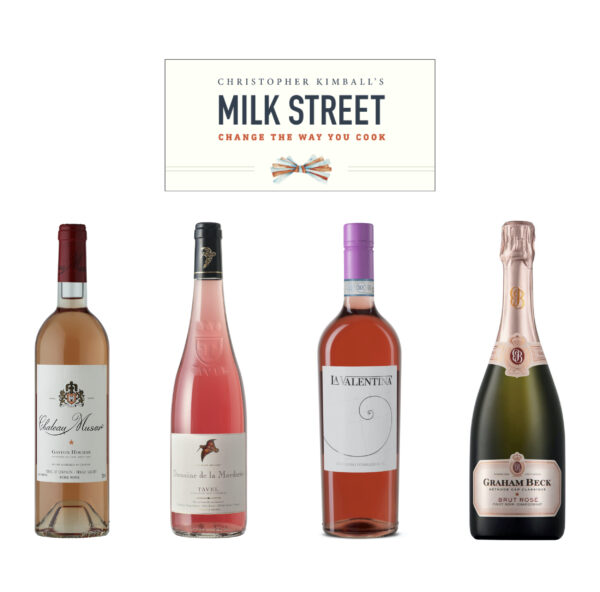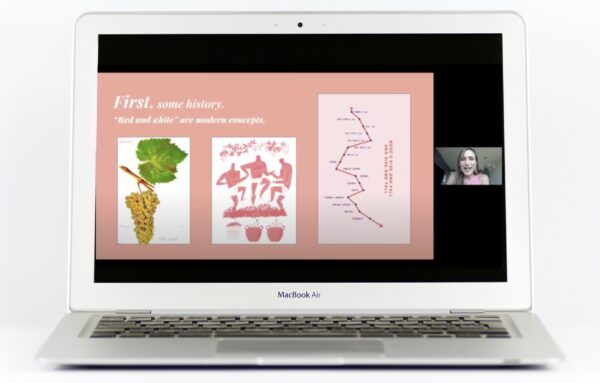 MERCH FOR GIFTING… OR JUST FOR HAVING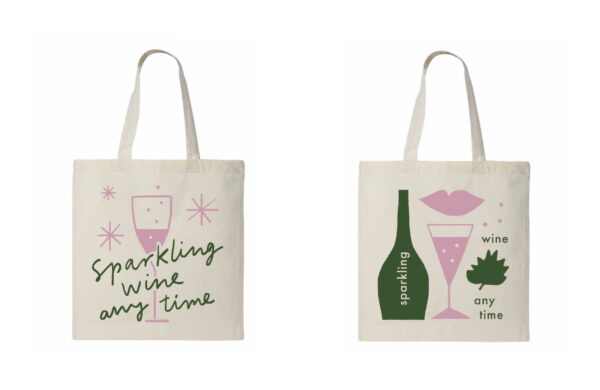 Give the gift of "Sparkling Wine Anytime!" I'm offering a new line of merch in anticipation of the publication of my next book, Sparkling Wine Anytime, in March 2021. Up first we have these delightful tote bags, retailing at $25 including shipping. They are guaranteed to brighten up anyone's day, and capable of holding a couple of bottles of fizz, as well.
Thanks to artist Mercedes Leon for making the book—and these bags—beautiful.
10% of proceeds will go to AHIVOY, a program offering education and career-enhancement opportunities to vineyard laborers. Many of these folks, in keeping with the theme of this month's episode of The Four Top, are here working hard in American agriculture without documentation.
Available for pre-order and wholesale orders now!
"BUTTERMAN" (FT MR. PANCAKES AKA FLAP JACK)
Anyone else in need of a laugh? Kielen King is a man of many talents who, in addition to working as resident audio genius at The Four Top, is a musician, rapper extraordinaire, and—who knew?—breakfast aficionado who has been known to go by the rap handle of "Mr. Pancakes." Check out his raunchy, silly video for a few minutes of distraction.

And now for the footnotes…
We're independent now! We at The Four Top are excited about the freedom this brings us. However, that means we need to rebuild our audience from scratch. Please help! Subscribe to The Four Top via your favorite podcast app, and leave us a rating. This will help others find us. Thanks!
📸 credits: New York Times image by Brian L. Frank. Laptop shot by Tuur Tisseghem for Pexels.